One of the best luxury villa in Umalas, Seminyak.
Beautiful, modern, exotic and stunning 5 bedrooms villa in Umalas, Seminyak, Bali.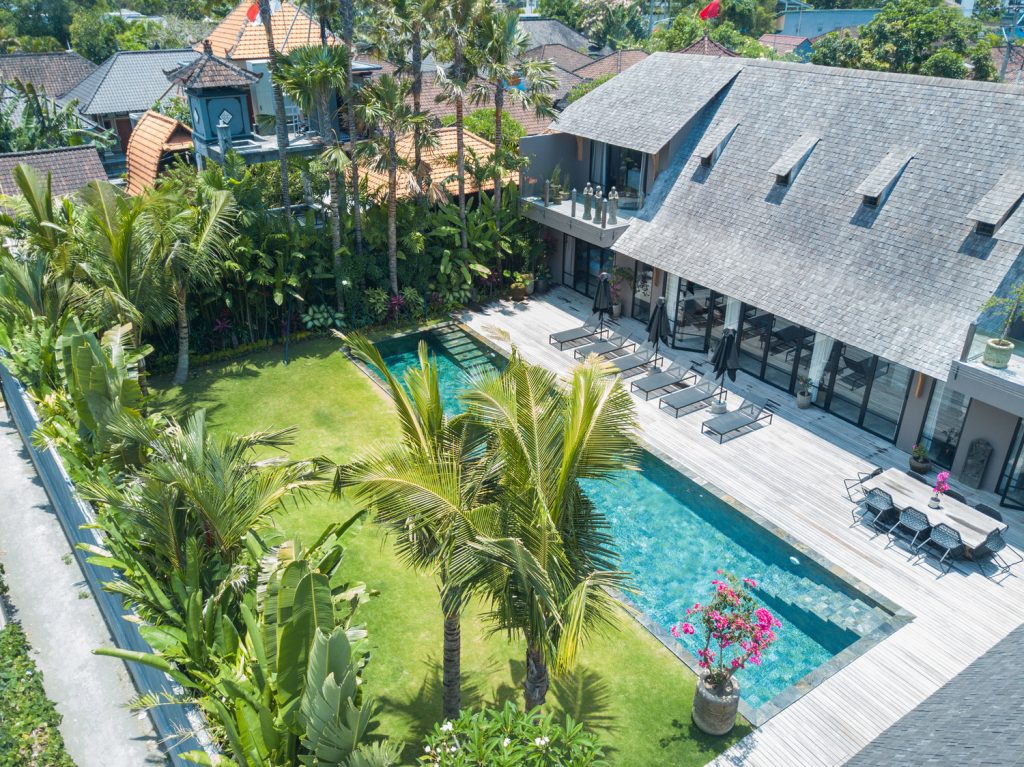 What & Where is Villa Nehal?
Villa Nehal is a beautiful, modern, exotic, and stunning 5 bedrooms villa.
Located in Umalas Tegal Cupek, you are only 5 minutes from the Seminyak beaches, and trendy restaurants like Metis, Sardine or Sarung and dozens of boutiques.
Majestic View from Its Terrace
Yet you are away from all the noise, traffic, pollution and commotion of downtown Seminyak.
Rice fields are still all around the area and across the street.
On a clear day you can fully see Mount Agung, Bali's tallest volcano, as you exit the Villa. This majestic view will put a smile on your face for the rest of your day.
Villa Features
This marvelous villa features 5 en-suite bedrooms and artistic bathrooms. It is fully furnished and equipped with finest quality furnishing and decor which provides a great deal of luxury, comfort and style.
This property generously offers laundry room, 2 levels, a beautiful lush green garden, AC, spacious living area, dining area, kitchen, swimming pool, storage, water source from well, internet throughout the house and a big parking area.
Villa Nehal come with all the modern amenities, including your own private pool, colorful garden, large open living and dining area, full kitchen, wireless internet, flat screen TV with cable (dozens and dozens of channels), DVD player and DVD library, stereo with iPod and USB hook.
Our Villa Staff
Villa Nehal comes fully staff, so all you have to do is kick back, relax and enjoy your stay in Bali.
They are trusted, speak English,are very service oriented, always ready to please and have a constant smile on their face.
The staff includes house keepers, cook (to prepare your breakfasts exactly to your liking),
gardener, pool and most importantly, your own private concierge.
Agung is a rare pearl; in her perfect English, she will make sure to help you with your requests as many as possible.
(from organize a driver for the day, motorbike rentals, boat or plane reservations, helping you with tours of the island, organize some massage for you in the villa, making recommendations of places to visit, etc).
All this is included when you stay at Villa Nehal.
We want to make sure that your stay with us is absolutely wonderful and memorable.